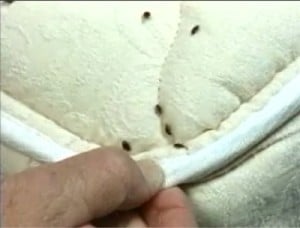 Bed bugs have become a major problem throughout the Valley, and learning how to identify and check for bed bugs is crucial to avoiding bed bug colonies from multiplying.
The signs of a bed bug infestation can be difficult to detect and spot if you don't know what to look for. If you have been dealing with bites and itches at night, you might want to check for common signs and evidence such as dark, tiny specks on the sheets.
Dark specks on your bedding and mattress are signs of bed bug feces and/or bed bugs being crushed under the bodyweight of those on the bed.
Habits and Patterns of Bed Bug Infestations
Signs of bed bugs often appear all around the bed area, including bedsheets and mattresses. Bed bugs can also make their home in box spring or inside mattresses as well as in crevices in or around the bed. As they hide away in these places during the day, they will come out at night to feed when you are asleep and still.
Bed bugs are not just found on your bed, they can also be found in your nightstands, dressers, electrical outlets, under baseboards, crevices in walls, and more.
How to Identify Bed Bugs
If you are not sure if bed bugs are present you need to look for signs. If you find signs or evidence on the sheets such as dark stains that are indicative of their excrement, these are clear signs that bed bugs are present.
Often times you may find these signs to be more concentrated or isolated to certain areas. You should seal off that room and avoid sleeping in the room to prevent further spreading in your home.
It is also wise to wait until it is dark and search around the mattress with a bright flashlight, including the seams. Once you have confirmed evidence of a bed bug infestation, it is best to seek professional bed bug treatment.
Phoenix Bed Bug Expert is here to help you with all your bed bug elimination needs. We provide bed bug heat treatments as well as chemical/pesticide treatments.
Amongst other pest control professionals, bed bugs are rated as the #1 most difficult pest to eliminate. Do not just hire a general pest control company to deal with your infestation, hire a company that specializes in exterminating bed bugs. You want a company with extensive background and experience so you don't have to deal with mutliple treatments and continuous biting.
Want a Bed Bug Inspection by a Professional?
Contact us today by calling 480-771-6395 for a free estimate or to schedule a bed bug inspection. Our team is composed of Chandler bed bug specialists that are all licensed, bonded, and insured.