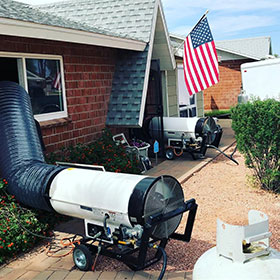 Bed bug heat treatments is the fastest way to kill all bed bugs and eggs in just one day – 100% guaranteed with our 1-year warranty.
By using our specialized heating equipment, we heat the residence to 150 degrees. The heat goes through mattresses, box springs, couches, etc. It penetrates through your furniture, bed frames, nightstands, dressers, etc.
When you follow our preparation instruction, your home and personal belongings will not be damaged at all during this treatment process. You will finally be able to sleep peacefully knowing that any bed bug or egg that was in your home is now dead.
If you have a severe infestation in just one room, we can provide a heat treatment in the one infested room while chemically treating the rest of the home. With this "hybrid" treatment you will save hundreds of dollars and still get a bed bug warranty.
Heat Kills All Stages of Bed Bug Life (including Eggs)
If you are looking for the fastest way to kill all your bed bugs, then heat treatment is your best option. Heat kills all stages of life in less than 8 hours, including adults, nymphs, and eggs. Pesticide can be used alongside the heat to prevent bed bug re-infestation.
We use specialized heating equipment that is made specifically for bed bug treatments. It is equipped with safety devices to ensure safe operation. Sensors will automatically turn off the equipment if a problem were to occur.
Top Questions About Bed Bug Heat Treatments
What is a bed bug heat treatment?
A bed bug heat treatment is a non-chemical, non-toxic approach to eliminating bed bugs. Using specialized heating equipment, we apply heat evenly throughout the entire structure, reaching temperatures of up to 150 degrees. This heat penetrates wall cavities, mattresses, and other hard to reach areas.
A heat treatment is the preferred treatment method by most because it kills all of the growth stages of the bed bug including the eggs. The entire bed bug infestation will be gone with just one treatment. In addition every heat treatment comes with a one year warranty.
Can bed bugs survive a heat treatment?
Absolutely not. When done properly by licensed professionals, there is no way any living pest can survive a heat treatment. Killing an entire bed bug infestation in one day is not possible with any other bed bug treatment.
How much does heat treatment for bed bugs cost?
The cost for a heat treatment can vary depending on the size of your home, how much furniture you have, and the level/severity of your bed bug infestation. Because of all these factors, we offer bed bug inspections. After our inspection we will be able to provide a price for a heat treatment.
To get a free inspection, or to get an estimated cost of treatment, call 480-771-6395.
Do I need to get rid of my mattress and furniture?
No, there is no need to dispose of mattresses, box springs, furnishings, and so forth when it is properly treated.
How do you get rid of bed bugs with heat treatment?
By using our specialized heating equipment, we heat the entire structure up to 150 degrees for a minimum period of 4 to 6 hours. No bed bug or egg will be living after a heat treatment is properly performed.
Have More Questions? Call a Chandler Bed Bug Expert
If you have any questions about our heat treatment, or anything else having to do with bed bugs, call us at 480-771-6395. You can also request a free estimate through our Request Estimate page.
"I had bids from a bunch of different bed bug exterminators that perform heat treatments. Phoenix Bed Bug Expert is who I selected. Not only were their prices the most competitive, but they did not try to scare us or sell us services we did not need."
Rating:5 of 5
Sincerely, Lisa H.